Positive Beginnings, Bright Futures
At The Piedmont School, we understand the importance of early intervention. With a faculty and staff specializing in the education of children with learning differences, we are able to not only tailor our curriculums to the individual needs of each student, but we are also able to provide guidance, feedback, and advocacy for parents during the evaluation and diagnosis process. The Primary Division at The Piedmont School includes students in grades Kindergarten through 2nd grade.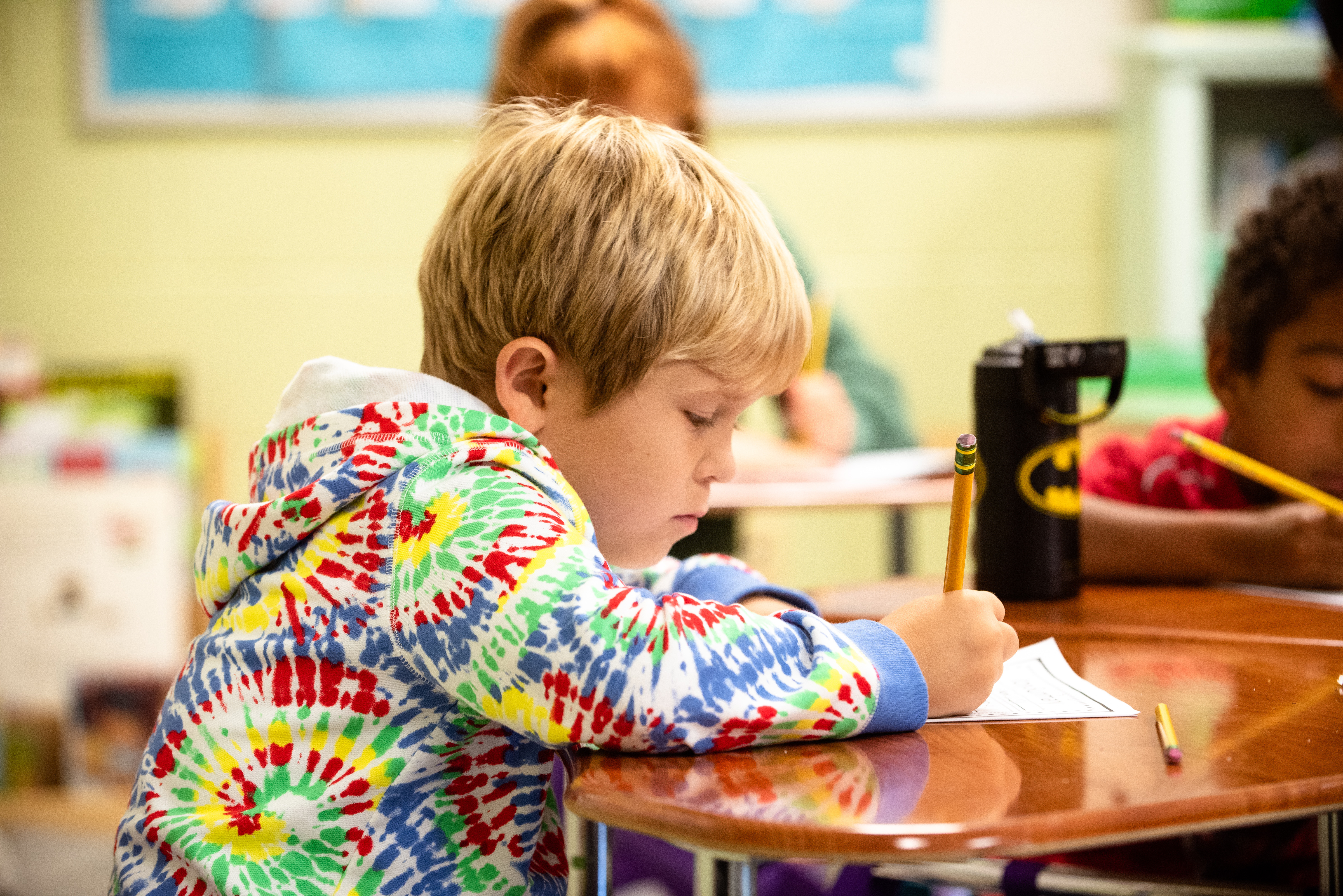 The goal of the Primary Division at The Piedmont School is to provide an individualized, developmentally appropriate curriculum and to help each student start their school career with a positive, enriching, and goal oriented beginning. When visiting our Primary Division you will see a lot of hands-on learning, the individual time between teachers and students, centers, small group and whole group instruction. Our Primary Division takes many field trips to help give students real-world application of concepts being taught. 
In order to provide this positive start, students will receive initial benchmarking assessments to gauge their independent abilities at the beginning of the year and will be informally assessed throughout the year to determine their growth. These assessments will help parents have an idea of any strengths and weaknesses their child is experiencing and also help parents provide valuable and professional information that can assist in exploring any possible diagnosis determinations. 
Primary receives direct, small group and individualized instruction in the areas of reading, writing, and math.
Students receive multi-sensory instruction each day. The Primary Division focuses on alphabet recognition/naming, phonemic awareness, early reading strategies and skills, early/beginning writing skills, number sense, and social skills/character education. You will see a multitude of methods and curriculums in our Primary Division as we strive to find the best curriculum for each child. You will see the Wilson Reading Program, Orton-Gillingham methods, Guided Reading, Lindamood Bell methods, and Fountas and Pinell reading. 
Primary students also receive daily specials such as music, drama, art, and PE.
Primary Division is a full day instructional program that runs from 8:00am-2:20 pm each day.
Early Bird Care is available at no extra charge beginning at 7:00 am. After School care is available for an additional charge from 2:30-5:45 pm each day.
The Piedmont School knows that tuition can be a daunting thought for many. We also know how important it is for families to find the appropriate educational environment for their child. With this in mind, The Piedmont School does have a tuition assistance program that offers some assistance to current and new families who qualify.
Primary tuition for the 2022-2023 school year is set at $19,887.
The Piedmont School offers some tuition assistance to current and new families. 
The Piedmont School also accepts several of the State Grant Programs such as:
Children with Disabilities Grant
Opportunity Education Scholarship
These grant programs are not directly affiliated with The Piedmont School as they are state-run grant programs. More information about each grant and how to apply can be found by clicking on the above links.