The Lower School Division at The Piedmont School is made up of students in 3rd-5th grade. The Upper School Division at The Piedmont School is made up of students in the 6th-8th grade.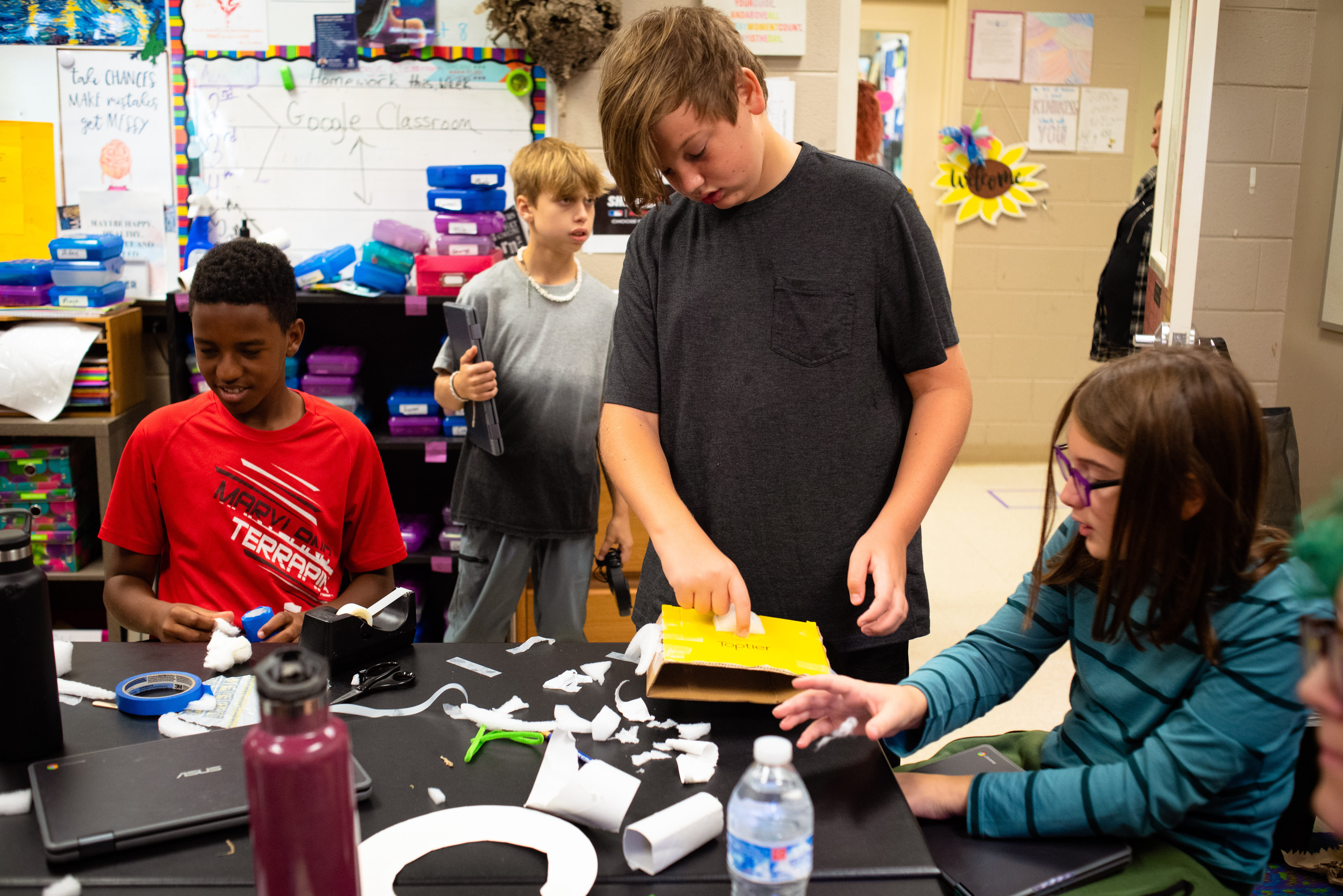 The Lower School and Upper School Divisions at The Piedmont School have been the heart of our program since the school began in 1982. The Piedmont School prides itself in individualizing curriculums for all of our students based on their needs in each subject area. This means students are placed into classes based on their individual ability, not necessarily grade level. With this practice in place, teachers are able to truly meet each student's needs by meeting them where they are. Students are able to receive remediation where needed but also able to excel and be challenged in areas of strength. 
Lower School and Upper School students rotate classes throughout their school day.  Students receive small group, individualized instruction in Literacy, Math, Social Studies, Science, PE, and specials daily. All classes are 40mins in length. Classes have a 1:6 teacher to student ratio in Literacy and Math (Core subjects) and a 1:12 teacher to student ratio in Social Studies, Science, PE, and Specials (Block subjects). 
Lower School classes focus on building strong foundation skills in each subject area. The teachers at The Piedmont School work hard to make sure these skills are met and/or that each student's potential is met in each subject area.
Upper School classes focus on expanding these foundational skills into more complex and applied skills. Our Upper School classes are just as individualized as our Lower School classes and the teachers are able to meet each student where they are, but this division also focuses on preparation for becoming high school students. 
TPS faculty use a wide variety of curriculums and strategies in order to best address each student's individual needs. TPS prides itself on not confining themselves to one curriculum or one strategy. We know that each student is different and there is no "one size fits all" when it comes to learning. You will see strategies from many curriculums and methodologies such as LindaMood Bell, Wilson Reading, Orton-Gillingham, Guided Reading, TouchMath, Houghton Mifflin/Harcourt, etc. Our faculty are some of the most experienced and specially trained in their areas and are thus able to access students and adapt their instruction based on how each student learns best. 
3rd-8th students begin their day at 8:00am (with drop off as early as 7:00am) and are dismissed at 2:30pm. 
After school care is offered for a small additional fee. Afterschool hours are 2:30pm-5:45pm. 
For students 5th-8th grade, afterschool athletics are offered. Teams are co-ed and try out free. See our Athletics page for more details. 
Afterschool clubs are also offered beginning in September. TPS offers Lego Club, Art Club, and Robotics Club (by invitation only as this club competes in the spring). 
The Piedmont School knows that tuition can be a daunting thought for many. We also know how important it is for families to find the appropriate educational environment for their child. With this in mind, The Piedmont School does have a tuition assistance program that offers some assistance to current and new families who qualify.
Tuition for the 2022-2023 school year for Lower School (3rd-5th) and Upper School (6th-8th) divisions is set at $21,113. 
The Piedmont School also accepts several of the State Grant Programs such as:
Education Student Accounts (ESA+ program) 
Opportunity Education Scholarship
These grant programs are not directly affiliated with The Piedmont School as they are state-run grant programs. More information about each grant and how to apply can be found by clicking on the above links.