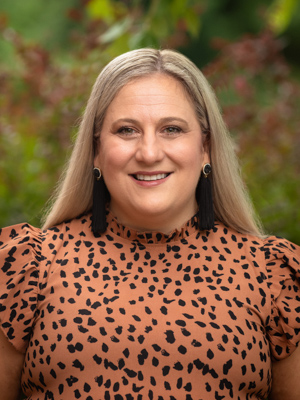 Kori Mackall has been with The Piedmont School for 13 years. Kori holds a Bachelor's Degree in Liberal Studies with a concentration in Language & Literacy Disorders from California State University, Long Beach. She also holds her Master's Degree in Special Education from the University of Nebraska with a certificate in Deaf Education B-12. Kori has also completed a post-graduate Professional Certificate in Non-Profit Management from Duke University. In her time at The Piedmont School she began our Primary program, taught 3rd-8th grade, has served as our high school facilitator and service hour coordinator, and works extensively with our communications and development departments.
Kori lives in the Colfax area with her husband and seven-year-old son. Kori and her family have two dogs, Brooklyn, a 10-year-old pitbull terrier that they rescued, and Olaf, a 3-year-old polar/yellow Labrador Retriever (that occassionally makes an appearance on campus).
In her spare time, Kori enjoys traveling, photography/videography, going to the beach, and cheering on the Duke Blue Devils, Nebraska Huskers, and Carolina Panthers!